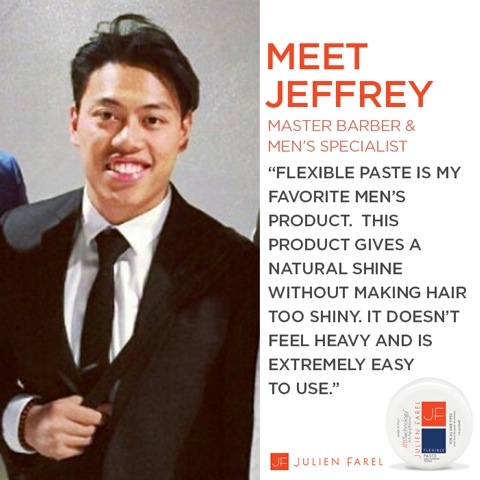 This #WisdomWednesday we introduce JF Men Master Barber and Men's Specialist, Jeffrey Yabut. Read about his favorite men hairstyles, haircare advice and his fascinating career path!
1. What is your favorite hair trend right now?
The undercut is making a great comeback! It is a very trendy and fashionable style that works with every occasion. What is great about it is it gives a lot of versatility on how to wear it whether it is a casual or more formal look you are going for. It could be a messy, care-free style for the weekend or polished for a the work week.
2. What career advice do you have for hairdressers starting out?
Being versatile is necessary to have a competitive edge in the hair industry. Be able to work with every tool available and learn how to work with every hair type. Don't limit yourself to one particular hair style specialty. Make sure that you are able to provide the desired result to everyone that comes your way.
3. What question do clients ask you the most about hair and what do you answer?
I always try to educate my clients on haircare by telling them the basic rules of hair maintenance, like washing the hair only four days a week and trying to condition everyday. It is important for men to know how to work with what they have. Since men's hair is usually short and can thin, I always recommend to use products that give fullness.
4. Provide one tip to fixing a bad hair day instantly.
I believe that great hair comes from a great haircut especially for men. If you have a good haircut, you won't have to worry about bad hair day. What matters is to know when to use products, using the right ones and how much to use of each.
5. What is something people don't know about you?
Cutting and styling hair was always a hobby since I was 16 years old, but before I entered the field of men's grooming, I wanted to become a Physical Therapist. When I graduated with a biology degree, I worked as a Physical Therapist Aid for 2 years. Then, I had to choose between the two careers and I went for hair styling. Since I do what I love, it doesn't feel like work.
6. What's your favorite Julien Farel product?
Without a doubt, Flexible Paste is my favorite product. The majority of men don't like super shiny hair, and this product gives the natural shine that they are looking for. It doesn't feel heavy, so you don't have to shampoo your hair everyday. Also, you can slide your fingers through your hair easily, so you can change styles very easily during your day.
7. What's your favorite Julien Farel service to get done?
Although it is a small service, I love the shoeshine! Veronica, our shoe shine specialist is amazing and works wonders with worn down shoes. She knows everything every man should know about shoe care. It is a great and unique service that JF Men offers that really completes your look from head to toe.
Follow Jeffrey on instagram: @j_yabs